Redskins Opponents Set for 2015
Redskins Opponents Set for 2015
With the 2014 Washington Redskins season coming to an end on Sunday we now know who their opponents will be in 2015.
Six of the games are against the other three NFC East division rivals.
Each division in the NFL rotates playing each other every season. in 2015 the NFC East will play the AFC East and the NFC South.
The remaining two games will be against NFC opponents and are determined by where each team finishes in the NFC division that the East is not playing next year. Since the Redskins finished in last place this year and already will face all the teams in the NFC South next year, they will have to play the last place team in the NFC North and the NFC West to round out their schedule.
Below is the list by home/away games:
Home: Dallas Cowboys, Philadelphia Eagles, New York Giants, Tampa Bay Buccaneers, New Orleans Saints, Buffalo Bills, Miami Dolphins, St. Louis Rams.
Away: Dallas Cowboys, Philadelphia Eagles, New York Giants, Atlanta Falcons, Carolina Panthers, New England Patriots, New York Jets, Chicago Bears.
The NFL schedule that will list the dates and game times won't be released until the spring.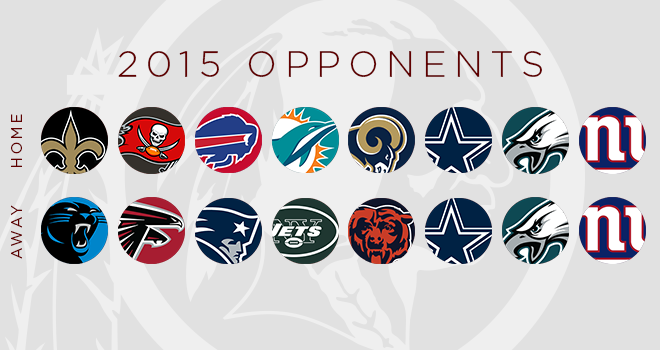 Leave a Comment