With the 2023 NFL season right around the corner, ESPN+ Insider has released its annual ranking of the top 10 players at 11 different positions, according to execs, coaches, and players. This year, two players from the Washington Commanders, Daron Payne, and Jonathan Allen, have made the list in the defensive tackles category.
Daron Payne and Jonathan Allen
According to their panel, Daron Payne is the 8th best DT in the league. His beastly play last season netted him 21.5 disrupted dropbacks, a metric that combines sacks, interceptions, and batted/tipped/defended passes. Which ranked him second among defensive tackles in that category, behind only Chris Jones, and tied for seventh among all positions. Payne's breakout season earned him a four-year, $90 million extension with Washington. An NFC executive noted his combination of talent and football intelligence, while an AFC scout added that Payne has everything – power, explosion, and the "ability to stop both the run and the pass."
Daron Payne and Jonathan Allen combine for a Bama Burger ™️ sack of Justin Fields. Fields is still seeing Bama ghosts from the 2020 title game pic.twitter.com/JHeQQlPzOD

— Bama NFL (@TheBamaNFL) October 14, 2022
Their ranking system has Jonathan Allen 10th on the same list. Allen, a two-time Pro Bowler, has been raising his stock the past couple of seasons, totaling 16.5 sacks over the last 33 games. An AFC executive described Allen as "low-key elite," praising his power and ability to impact both phases of the game. Allen was double-teamed on pass rushes at the second-highest rate of any player in the NFL last season, indicating the level of threat he poses to opposing offenses.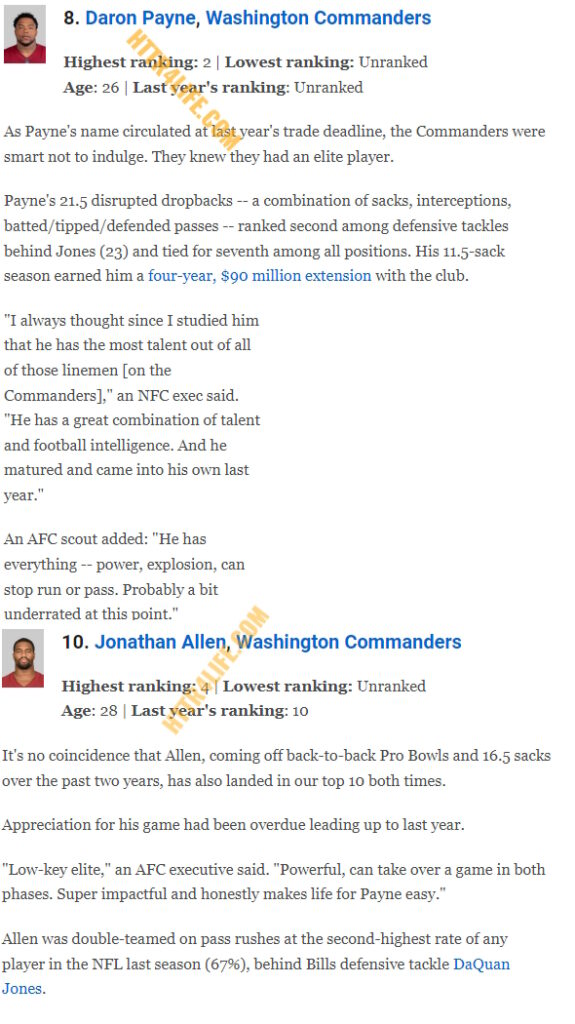 The Rest of the List
The list also includes other notable players, such as Aaron Donald from the Los Angeles Rams, Chris Jones from the Kansas City Chiefs, and Jeffery Simmons from the Tennessee Titans, who are ranked first, second, and third respectively.
Quinnen Williams of the New York Jets is fourth, followed by Javon Hargrave of the San Francisco 49ers in fifth. Dexter Lawrence of the New York Giants is sixth, with DeForest Buckner of the Indianapolis Colts in seventh. Payne is eighth, while Cam Heyward of the Pittsburgh Steelers is ninth, and Allen, of course, was tenth. Honorable mentions include Christian Wilkins, Vita Vea, Kenny Clark, Derrick Brown, and Leonard Williams.