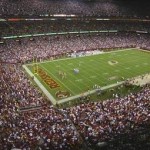 When the Washington Redskins open their home season this fall, they will do so on a new playing surface sodded with an award-winning turf of bermudagrass created by researchers at Oklahoma State University. The team announced in April it will install OSU's Latitude 36 at FedEx Field in June.
As many will remember, the last time we saw the turf at FedEx Field, it was in extreme need of a redo.
"The NFL is the ultimate for any football player, so we are delighted that a bermudagrass created by OSU experts has reached this pinnacle of success," said OSU President Burns Hargis. "The NFL also is the ultimate test of a turf's durability, and we're confident the Washington Redskins will be pleased with the performance of Latitude 36." FedEx Field becomes the first NFL field to showcase Latitude 36.
The Baltimore Ravens also have installed the new variety on two practice fields, and the University of Virginia and Bradley University home football fields are sodded with Latitude 36 as well. The grass is ideal for use in parts of the eastern, western, and southern United States for sports fields, golf course fairways/tee boxes, commercial grounds, and residential lawns, in part, because of its excellent tolerance for traffic and recuperation rate once it is damaged. It has improved cold hardiness and excellent color, texture, density, and uniformity.
You can read more about the bermudagrass developed by Oklahoma State by clicking HERE.