In just a few short weeks, the 2015 NFL Draft will take place, and the Washington Redskins will have all of their draft picks for the first time in years. The team has needs all over the board, so don't be surprised if they trade back to gain more picks. In the coming weeks, we are going to feature a few mock drafts here at HTTR4LIFE; we'll be using the Premium version of Fanspeak's On The Clock Draft Simulator to aid in the process.
HTTR4LIFE Mock Draft 1.0
This week we're going to take any trades that are offered along the way.
As we started the draft process, we were offered the following trade offers.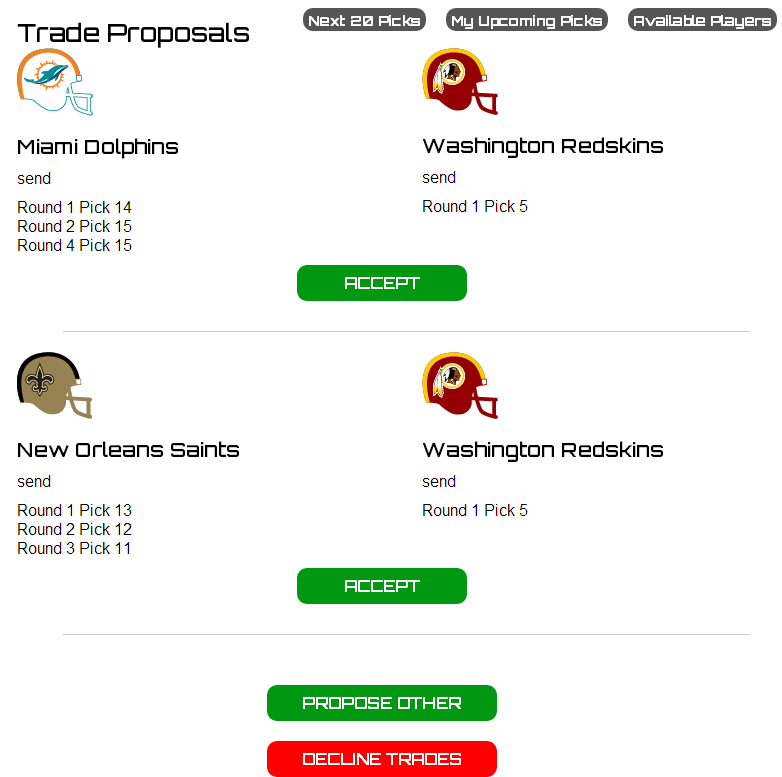 Since we were looking to add more picks, we accepted the Saints' offer, which gave us the 13th pick in the first, the 12th pick in the second, and the 11th pick in the third in exchange for the fifth overall pick in the draft.
When it was our turn to make the 13th pick, the following were available.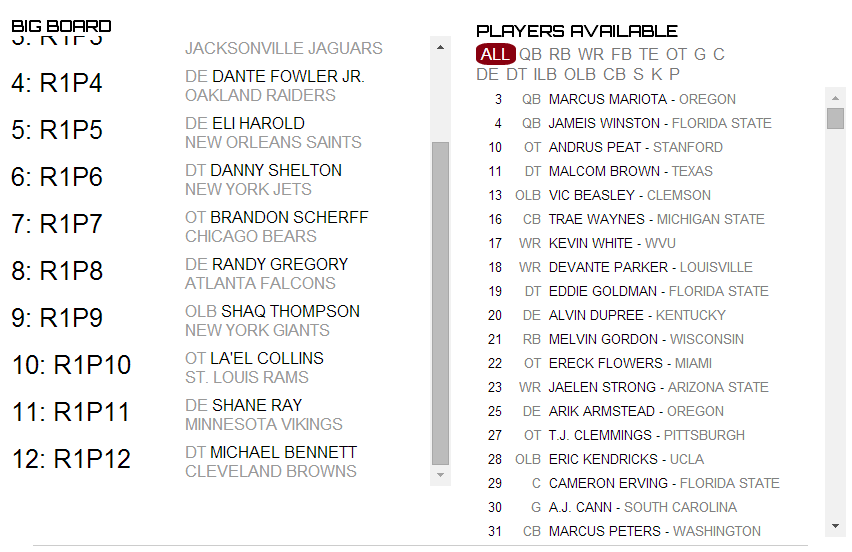 Interesting to note that Marcus Mariota and Jameis Winston were both available at 13 (which could lead to another trade back in a real-life situation).
Pick 13,
 Round 1 – 
OT
Andrus Peat (6-7, 313 lbs) 
Stanford….choosing Peat 13th was easy; at 6-7 and 313 pounds, he has the size, and looking at his game-tape from Stanford will show you he is strong enough to be a downhill run-blocker and also is agile enough to block in a zone scheme. This guy has all the tools to be the "book-end" right tackle the Washington Redskins have been desperately looking for.
One scout had this to say: "Big and powerful with a right tackle's play strength and demeanor, but enough foot quickness to protect on the left side. Peat has the physical tools to be an upper-echelon run blocker with pass-protection ability, but he needs to improve his technique in order to protect with consistency. Peat has been well-coached and is one of the most game-ready offensive linemen in this year's draft."
As the draft progressed into the second round, another trade request was received: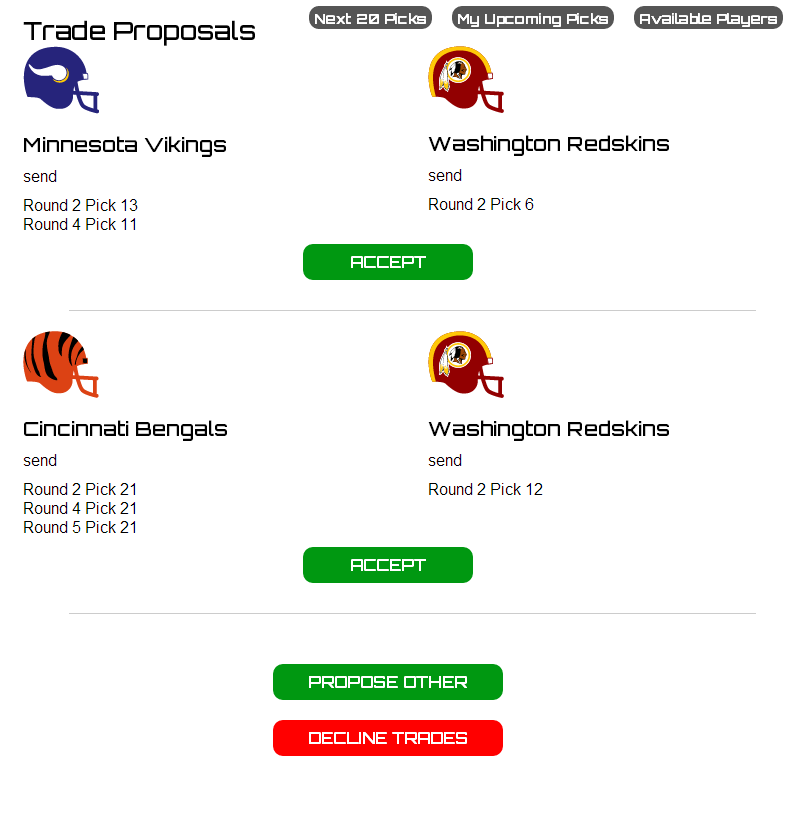 Being as the overall goal of this draft scenario was to get as many picks and the best value at each pick as possible, we decided to take the Bengals' offer. Their offer gave us the 21st pick in the second, fourth, and fifth rounds in exchange for the 12th pick in the second round that we got from the trade with the Saints in the first round….in other words, 3 picks for a pick we didn't start the draft with.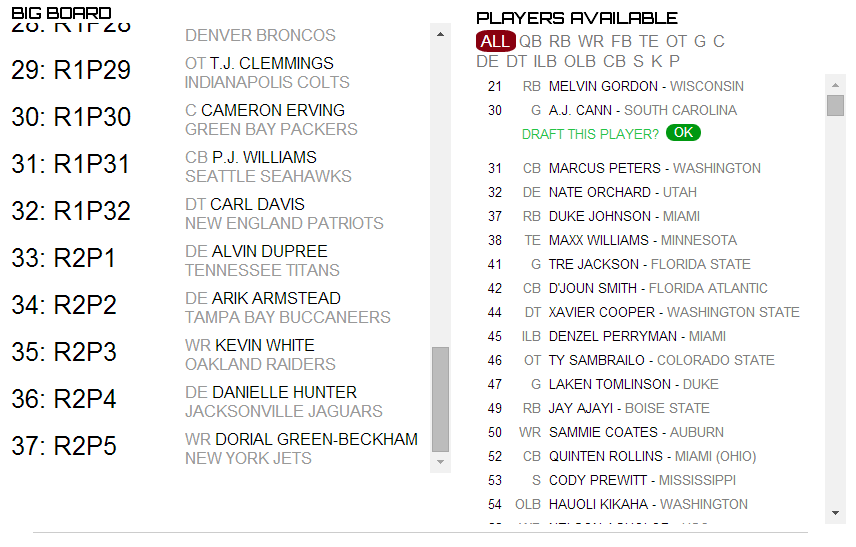 Again, when you remember what the Redskins needs are, it was really simple to make the 38th pick, which was the 6th in the second round.
Pick 38,
 Round 2 – 
G
A.J. Cann (6-4, 313 lbs) 
South Carolina…Cann is a stud who started 51 games for South Carolina and was a staple at left guard during his time with the Gamecocks.
"Cann has the square-ish frame so conducive to playing inside," CBSSports.com analayst Rob Rang wrote. "Impressive mix of athleticism and power, with a flexible lower body and generating power through his hips, midsection and hands to latch-and-grip with excellent technique. He bursts out of his stance and quickly gets into position, showing instinctive eyes to know what's happening around him while extending his reach to keep space between himself and his target."
Pick 53,
 Round 2 – 
G
Tre Jackson (6-4, 330 lbs) 
Florida State – The Redskins need an offensive lineman, and Tre Jackson was the best available on the board. He may need more work compared to AJ Cann and Andrus Peat, but with a little footwork and time with the strength and conditioning coaches and Jackson will be a stud. Some may not like taking guards two picks in a row, and I'm certain a case could be made for a defensive end or linebacker here, but Jackson looks the part with a little work….would not be a waste by any means.
Three-year starter on a line full of wide-bodies, Jackson entered the 2014 season as one of the top-rated guard prospects, but failed to distinguish himself. Has the talent to be a dependable, quality NFL starter, but he needs to work on weight and conditioning in order to improve his feet and reach his potential.
Pick 69,
Round 3 – 
DT
Ellis McCarthy (6-5, 331 lbs) 
UCLA…big framed defensive linemen are what the Redskins need to clog up the gaps on opposing offenses. McCarthy looks the part of an NFL nose tackle.
McCarthy appeared in 12 games for UCLA in 2014 and he recorded 20 tackles. He had three tackles for loss and three sacks. The 6′-5″, 331-pound lineman is said to project best at the inside of the defensive line in the NFL despite having played some defensive end for the Bruins.
Glenn finished the 2014 season with seven interceptions and 18 passes defended; he was named co-Defensive Player of the Year by the American Athletic Conference. Glenn was also named to the AP All-America Team, the first UCF player to be so honored since running back Kevin Smith in 2007.
Pick 102,
 Round 4 –
C
Andy Gallik (6-3, 303 lbs)  
Boston College…The Redskins have needed a center for years.
Fighter and grinder. Plays flat-footed on impact and can anchor. Secures his down blocks with purpose and tries to collapse them. Sinks hips and times his punch in pass protection. Keeps his head out of the pass protection and uses good posture. Nasty. Has the play demeanor that offensive line coaches love. Has necessary sand in his pants to stalemate against power and does a good job of getting his feet in position to wall off defenders. Very good functional strength. Can sustain power blocks.
Pick 117,
 Round 4 –
RB
Ameer Abdullah (5-9, 195 lbs) 
Nebraska…A dual threat type back that had over 1600 yards rushing with 19 touchdowns and almost 300 yards receiving. He would fit the need the Redskins currently have for a pass-catching back.
Pick 133,
 Round 5 –
CB
Ladarius Gunter (6-2, 198 lbs) 
Miami…Keeping with the above 6-foot cornerback prototype that's a must nowadays with the giant-sized receivers in the NFL. Gunter fits that role and has 4.4 speed to go along with it. Gunter finished his career at Miami with 109 Tackles, 1 FF, 2 FR, 18 PBUs, and 6 INT's.
Pick 166,
 Round 6 –
TE
E.J. Bibbs (6-3, 264 lbs) 
Iowa State
Comes out of his breaks under control and ready to catch the ball. Opens up and is a presentable target for quarterback. Shows good concentration as a pass-catcher with plus hands. Uses body to position effectively. Averaged a touchdown every seven catches. Gives good effort and has good feet in zone blocking.
Pick 197,
 Round 7 –
S
James Sample (6-2, 191 lbs) 
Louisville