Redskins Release Training Camp Schedule
The Washington Redskins, in partnership with the City of Richmond, Bon Secours Virginia Health System, and the Virginia Governor's Office, announced their 2016 training camp schedule, set to take place at the world-class Bon Secours Washington Redskins Training Center from July 28 through Aug. 14 in Richmond, Va. The schedule features a total of 22 public on-field sessions available to fans, highlighted by Fan Appreciation Day on Saturday, Aug. 13.
The practices sessions listed below are open to the public free of charge; practice dates and times are subject to change without notice. For the latest training camp information, please visit redskins.com/trainingcamp.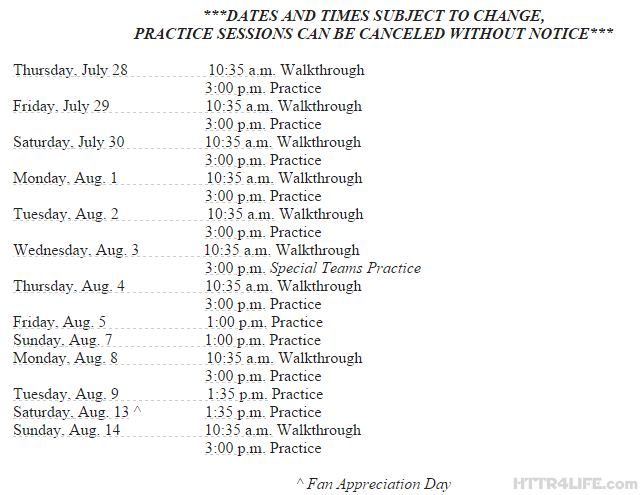 Fans are encouraged to bring lawn chairs or blankets to sit on during practice, overlooking the practice fields. No bleachers are available on-site. Bon Secours Washington Redskins Training Center visitors can walk around designated areas outside the practice fields to watch their favorite players.
For security purposes, all visitors and bags entering the Bon Secours Washington Redskins Training Center grounds are subject to search by team security.
The City of Richmond will offer a variety of parking options for Redskins fans during training camp. Available parking lots provided by the City of Richmond will be announced closer to camp.
The following items are prohibited at the Bon Secours Washington Redskins Training Center: alcohol and illegal drugs, weapons, firearms, glass bottles, video cameras and animals (except for certified guide dogs assisting disabled guests).
Food and beverages will be available for fans to purchase on-site