The Greatest Redskins RB's of All-Time
When looking at the storied history of the Washington Redskins, one cannot do so without first taking a look at the long line of historically great running backs. From the days of Cliff Battles to the tough Larry Brown and the bruising John Riggins, Redskins backs have always set the tone.
For that reason, it's hard to categorize the greatest Redskins running backs of all time into a list. Most of the time creating such a list would depend on personal preference coupled with a drawn out numbers crunching session. In this situation, each players career numbers and any available highlights will be presented, and you'll decide for yourself, through a vote, just who the greatest Redskins RB of all time was.
Cliff Battles – Cliff Battles was the first great running back in Redskins history. Battles played from 1932-1937 and was considered the best tailback in the game when he walked away from the NFL in 1937 after a contract dispute with George Preston Marshall. Although his numbers may not stack up against some of the players of this age, Battles also played in an era of lesser games and more clock control football.

Larry Brown – Larry Brown was one of the toughest guys to ever take the field for the burgundy and gold. Brown played through tons of injuries and still managed to lineup each game at running back and put a show on. Brown rushed the ball 1,530 times for 5,875 yards and 35 touchdowns in 71 starts, all with the Redskins. Brown's 5,875 yards rank him third in Redskins history.

John Riggins – John Riggins was a special breed of football player, better yet a special breed of human being. It was truly one of the great honors of my life to be able to say I saw John Riggins play. Riggo was one of the best players the NFL has ever seen, and to this day is still the all-time Redskins leader in rushing yards with 7,472 on 1,988 carries. Riggins touchdown run in the 1982 Superbowl versus the Miami Dolphins may, in fact, be the most iconic moment in Redskins history.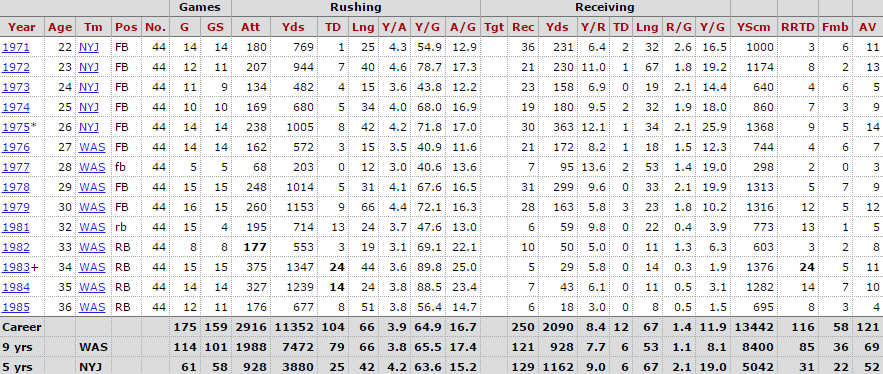 Clinton Portis – Clinton Portis made an impact with the Redskins from the very first carry, taking it 64-yards for a touchdown against the Tampa Buccaneers. Portis didn't slow down until his career came to a premature end in 2010. In seven years in Washington Portis carried the ball 1,667 times for 6,824 yards and 46 touchdowns. His 6,824 yards are second all-time in Redskins history.

Stephen Davis – Stephen Davis was a hard-nosed work-horse type of back in the seven years he spent in DC. Davis started his career as a fullback looking to make the best of his situation as a backup. At the end of his seven-year run with Washington, he had 1,383 carries for 5,790 yards and 45 touchdowns. His 5,790 yards are good enough for fourth all-time for the Redskins.

With so many options available it's hard to decide who the best running back was that ever wore the burgundy and gold. What's your opinion Redskins Nation?

Loading ...