Robert Griffin III in Trademark Dispute Over RG3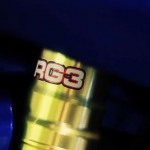 According to The Washington Post, Redskins quarterback Robert Griffin III is involved in a trademark dispute over the initials "RG3."
An off-road motorcycle racing suspension parts company that's named Research Group 3 was started back in 1998 by Rob Henricksen and is known within their industry as RG3.
As Robert Griffin III transitioned from a promising college prospect into an established professional star, he took steps to protect his brand, filing paperwork with the U.S. Patent and Trademark Office to trademark the phrases "RGIII" and "RG3," for use on "shirts, sweatshirts, jackets, pants, shorts, footwear, hats, caps, [and] athletic uniforms."
Griffin, as it turns out, was just eight years old when Henricksen started his motorcycle parts business. But as his star rose, the company started getting e-mails and letters from fans wondering if there was a connection between the suspension business and the quarterback.
Earlier this year, the company filed an extension of time with the Trademark Office to oppose both of the quarterback's filings. The company was granted 90 days; the extensions of time expire next week.
"We're maintaining the status quo until we can work out a coexistence agreement," said Catherine Holland, a California-based intellectual property lawyer with Knobbe Martens who is representing the company. "We just want to clearly delineate the rights that each party has with regard to the phrase RG3."
Holland said the suspension company is not trying to profit off Griffin's fame and wishes him the best on and off the field; its goal is to prevent marketplace confusion and the use of competing marks in the same sphere. And one trademark lawyer said the company's argument might be convincing.
If Griffin ends up losing this case, he'll lose millions of dollars due to fact that he won't be able to make any money off of the initials, RG3.