The Washington Redskins released their injury report Thursday afternoon as head coach Jay Gruden spoke to the media.
Jamison Crowder, two Others Limited
"Limited were [Ryan] Anderson, stinger/neck; [Spencer] Long with his knee; [Jamison] Crowder with his hip flexor," said Gruden. "Full were [Josh] Doctson, [Junior] Galette, and [Montae] Nicholson.
Gruden talking about Ryan Anderson and Junior Galette from today. @Rich_TandlerCSN has the analysis on what it means pic.twitter.com/nEYuF7AFaD

— JP Finlay (@JPFinlayNBCS) September 7, 2017
When asked about the severity of Anderson's stinger, Gruden replied, "He practiced today on a limited basis, so it's coming along. We'll have to wait and see; probably tomorrow, we'll have a final verdict on whether or not he'll go. He's made progress."
For the Redskins, Thursday brought news of Jamison Crowder having tweaked the joint in his hip-flexor injury. His appearance on the injury report was unexpected but should not scare fans, as Crowder has yet to miss a single start in the NFL since coming in as a rookie last season. It appears that third-year Redskins player Junior Galette will finally see his first game in burgundy and gold after two seasons of injuries kept him off the field. In the last two seasons, Galette played in; he averaged 10+ sacks each for the New Orleans Saints.
Second-year receiver Josh Doctson was also listed as a full participant in practice as the hamstring that bothered him before the Redskins week 3 game during the preseason appears to have gone away.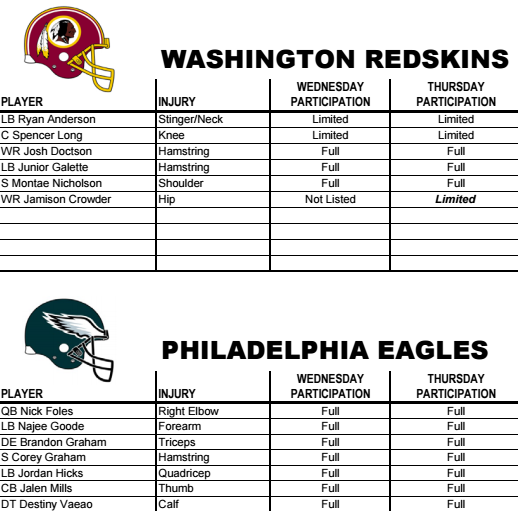 In other news
The Redskins waived the following players from their Reserve/Injured list with injury settlements: TE E.J. Bibbs, LB Ron Thompson Jr., and LB Lynden Trail. All three players are now eligible to be signed by other teams.
#Redskins reach injury settlements with 3 players. All become free agents. pic.twitter.com/evwVYc3cuZ

— Craig Hoffman (@CraigHoffman) September 7, 2017