Redskins vs Eagles Week 6
Game Info
Where: FedExField, Landover, Md
When: 1:00 PM ET, Sunday, October 16, 2016
Live Radio Broadcast; ESPN 980: Chris Cooley, Sonny Jurgensen, Rick "Doc" Walker and Larry Michaels
Watch Online: CLICK HERE to watch NFL Game Rewind
The Washington Redskins return to FedExField this week in search of their fourth consecutive victory, as the team hosts the Philadelphia Eagles in Week 6.
TV: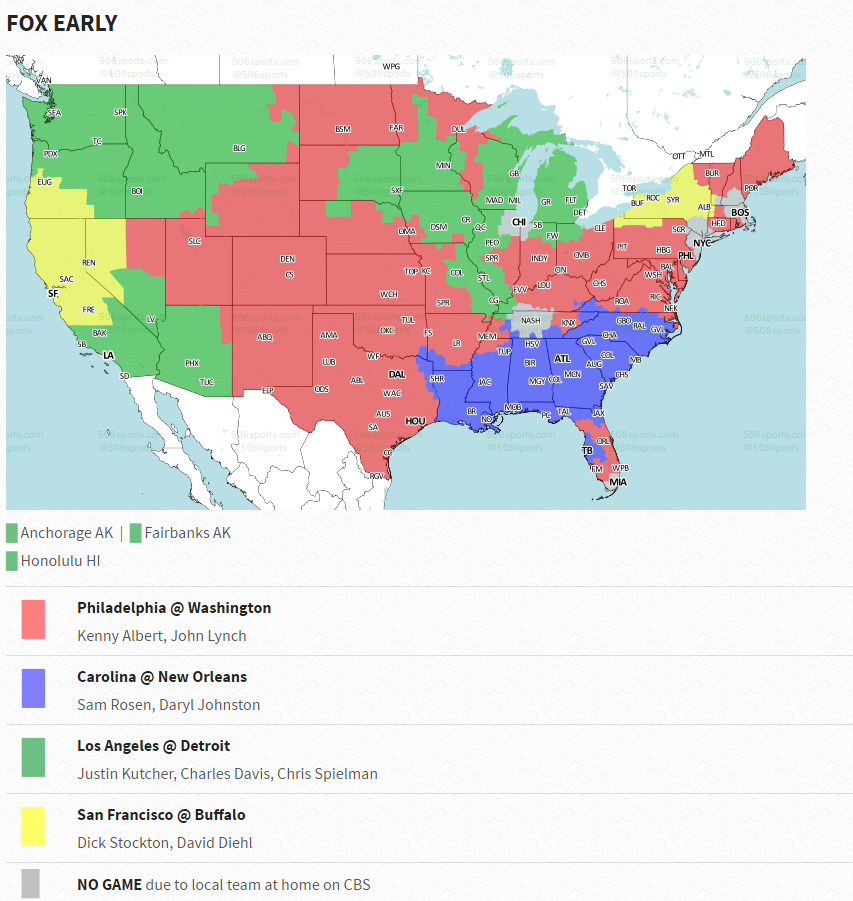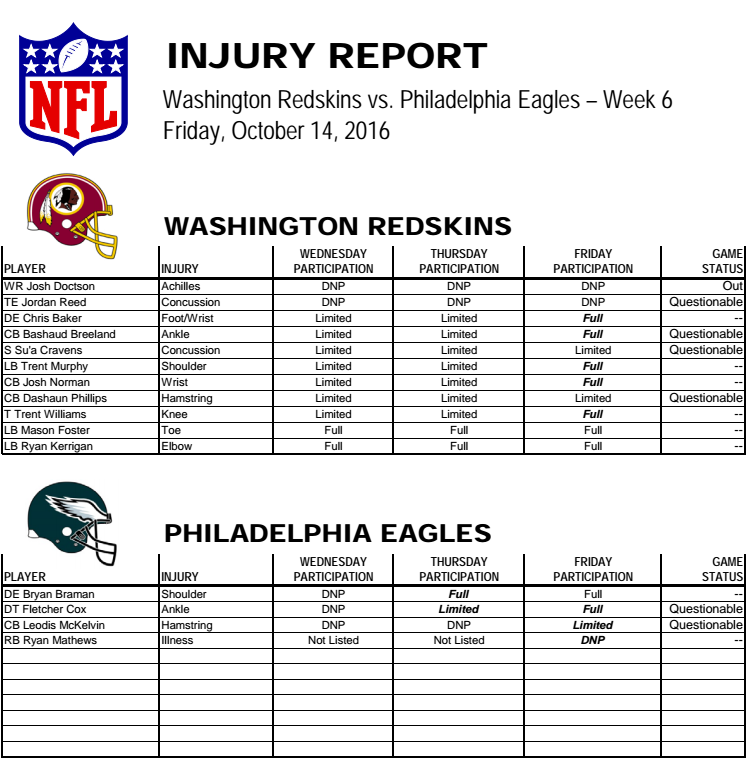 Below is a collection of links from Redskins stories this week. Click the underlined line to view the article.
VIDEO: Redskins CB Josh Norman E:60 Feature (FULL)
VIDEO: Josh Norman E:60 Feature (FULL); Washington Redskins corner Josh Norman is a name that has become known in every home across the country over the…
Redskins Bring in Former Defensive Tackle for Visit
Crowder did Something Sunday That no Redskins Player has Done Since 2008
Jamison Crowder Named NFC Special Teams Player of the Week
When you're the most electric part of a massive victory over your local rival, then you certainly deserve to be showered with accolades. And on this sleepy…
Jay Gruden Acknowledges Need For Redskins to Spread Ball More
After a rough 0-2 start to the season, with losses to the Steelers and Cowboys to boot, the Redskins have finally gotten it together and put together a solid…
How Eagles-Redskins Game Could Decide the 2016 Presidential Election
The 2016 Presidential Election is finally (and thankfully) coming to an end, as Republican nominee Donald Trump and Democratic candidate Hillary Clinton are…
One Player Out, Four Questionable; Redskins Injury Report 10-14-2016
Washington Redskins head coach Jay Gruden spoke with reporters about the Redskins current injury situation at his afternoon press conference Friday.
VIDEO: Redskins Rookie Dispels Rumors That He Lost His Eyesight
The Washington Redskins have not had the best start to the season. Sitting at 3-2 is by no means a bad start to season, but it's not exactly what they'd…
Dan Snyder Sends Redskins Players to Haiti With Relief Supplies
This past week Hurricane Matthew tore through the East Coast of the U.S. as well as the Caribbean. But it was most devastating for Haiti, as it reportedly…
REPORT: Redskins Host 2 Defensive Tackles for Visits
The Redskins will be hosting two defensive lineman today at Redskins Park….
Redskins TE Jordan Reed & LB Su'a Cravens Downgraded to Out for Sunday
Washington Redskins head coach Jay Gruden told reporters Friday that tight end Jordan and safety Su'a Cravens were both questionable for Sunday's game. Both player