Redskins vs Vikings Week 10
Game Info
Where: FedExField, Landover, Maryland
When: 1:00 PM ET, Sunday, November 13, 2016
Live Radio Broadcast; ESPN 980: Chris Cooley, Sonny Jurgensen, Rick "Doc" Walker and Larry Michaels
Watch Online: CLICK HERE to watch NFL Game Rewind
The Washington Redskins will return to action in Week 10 when the team hosts the Minnesota Vikings at FedExField.
TV: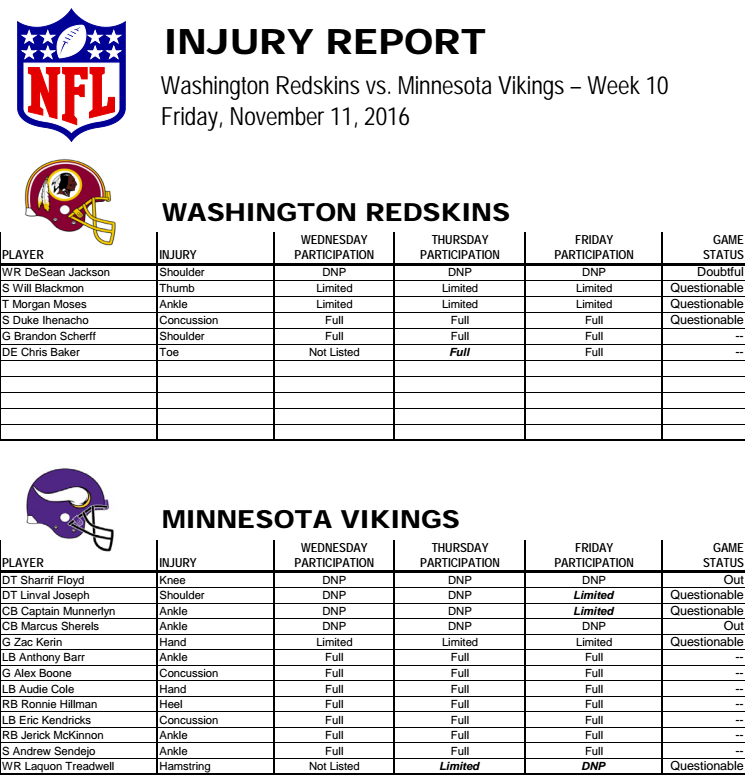 Below is a collection of links from Redskins stories this week. Click the underlined line to view the article.
Redskins Activate TE Derek Carrier, Waive CB Dashaun Phillips
The Washington Redskins activated a tight end and waived a cornerback Saturday…
BREAKING: Vikings Defensive Starter Out For Week 10
Man, Minnesota just cannot catch a break.  The Vikings have been demolished by injuries so far this season, and it finally looked like things were starting…
BREAKING: Randy Gregory Reportedly Fails Another Drug Test
It doesn't get much sadder than this.  The Cowboys used a second-round pick in the 2015 NFL Draft on Randy Gregory out of Nebraska. The explosive defensive…
REPORT: DeSean Jackson Ruled Out for Sunday's Game Against Minnesota
Redskins head coach Jay Gruden said earlier today that Jackson has been dealing with pain in his shoulder….
Redskins Hopeful for Return of Injured Running Back
The Washington Redskins have just finished their bye week. The Skins have a ton of injuries, so it was a much-needed week off.  Prepping for Week 10 began…
Redskins Sign Former Seahawks DL Jordan Hill
Drew Brees Blames TV Ratings On NFL Front Office
Television ratings for NFL games have been down this year, and Drew Brees has a hunch as to why that may be.  Brees believes that the recent drop in ratings…
Redskins Sign OT Blaine Clausell
Redskins.com | 2017 Pro Bowl Vote