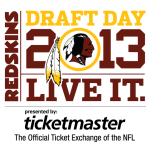 The Redskins go into the 2013 NFL Draft with 7 draft picks to use. The team has needs to fill but doesn't have the luxury of having a number one pick (sent in the deal for RG3) although that should not scare
Redskins fans into the thought pattern that they can't get anybody good, because this draft is pretty deep at the positions the Redskins are in need of.
Now we're not going to do a traditional 'Mock Draft', think of this as more of a breakdown of the possibilities of what may be available at the time of the pick.
All videos are courtesy of The VIkings World
2nd Round Pick #51
Johnthan Banks (CB) Mississippi St. 6-2, 185 lbs.
STRENGTHS – Height, length and competitive nature could make him a starter. Good hands for the interception, can high-point passes and make difficult catches with superb concentration. Effective on jump balls in end zone and knocks away passes from behind without interfering. Does not give up on plays even as receiver is catching the ball. Former safety is not shy of making contact, solid tackler when coming downhill. Quick to attack running plays, even when playing off-coverage, making it tough for receivers to get a hand on him. Effective as a blitzer against the run and pass. Rips at the ball whether making a tackle downfield or attacking the quarterback in the backfield. Excellent mirror and change of direction skills. Not asked to play a lot of press coverage and he's not very strong, but he has a quick disruptive jam.
WEAKNESSES – Getting bigger, but still quite thin, especially in his lower half. Stronger backs can still carry him when they have a head of steam and physical receivers can block him on the edge and separate from him easily downfield. Plays a bit tall, will miss tackles coming in high and lacks strength to arm tackle receivers. Does not have great straight-line speed, will not recover once losing a step. Rarely backpedals, asked to play mostly off-coverage's and opens his hips early to prevent getting beat deep. Inconsistent looking for and finding the ball in the air, miss-timing jumps and taking bad angles to the ball. Can get caught peeking in the backfield.
D.J. Swearinger (S) South Carolina 5-10, 208

STRENGTHS – High-motor, downhill run and pass defender who throws his body around, but with some control. Big hitter over the middle on receivers and pounding running backs, especially in tight quarters and as a backside pursuit defender. Good lateral movement to flow with runs from the back half, yet fly into the hole to prevent big runs. Feisty in-the-box defender who out-quicks or swims over lead blocks and fights through the whistle. Has experience at a variety of positions, and lines up against receivers regularly, using his physicality, agility, and knowledge of routes to stay with them across or down the field. Has the range to split the field in half in two-deep coverage. Effective blitzer off the edge, brings force into fullback blocks and quarterback hits. Competes for the ball while the receiver is making the catch, as he does in every other part of his game. Makes the easy interception on poor throws, but also snatches and dives for tougher picks.
WEAKNESSES – Average height for the position, though he has good thickness in his lower body. Best in a two-deep look, might not have the range to make plays and length to take on deep routes in single-high, although South Carolina often asks him to fulfill this role. More of an enforcer against receivers than backs. Prone to leaving his feet and goes low on tackles (especially in space), pro backs might avoid them more easily in the open field. NFL quarterbacks might take advantage of his aggressive nature, as he will jump underneath routes. Gets overly physical with receivers, sometimes crossing the pass interference line because he lacks the pure speed to keep up. Straddles the line with trash talk and hits through the whistle. Will likely get flagged and fined for overly-aggressive play.
Terrance Williams (WR)  Baylor 6-2, 208 lbs.
STRENGTHS – Tall vertical and red zone target who can go up and get the ball. Eats up space quickly against soft coverage. Shakes his man off the line and has enough speed to get a step down the sideline. Is a sideline threat with quick feet for his size and body control in the air, making his stop, fade, and comeback routes more effective. Tracks the ball and adjusts to it in the air, and shows the ability to stop and turn for the back-shoulder fade. Adjusts his route to make himself available to his scrambling quarterback, going deep or crossing into an opening. Willing, strong, and physical blocker on bubble screens and in the run game, throwing his body into defenders and sticking with blocks. His blocking was a big key to Baylor's perimeter run game.
WEAKNESSES – Pure outside receiver. Does not run a variety routes in Baylor's offense. Routes are not always completed if he is not primary target. Inconsistent making his man miss after the catch, has some short-area quickness but better tacklers wraps up his long legs quickly. Tracks the ball well, but lets it get into his body and isn't a natural hands catcher
3rd Round Pick #85
Bacarri Rambo (S) Georgia 6-0, 211 lbs.
STRENGTHS – Possesses the combination of overall strength (befitting a last name mimicking the fictitious role played by Sylvester Stallone) and agility to fill multiple roles on defense. Consistently reads routes and the quarterback's eyes well, flows with plays from the deep half and breaks on the ball quickly. His strong hands can snatch 50/50 and jump ball passes away from receivers, and is willing to throw his shoulder into receivers over the middle to separate the ball. Effective cut tackler at the second level, also changes directions quickly to wrap up running backs making a quick cut. Good effort, upper body strength to ride receivers and backs with a full head of steam to the ground or sideline. Moves well with receivers downfield, can take away deep options and limit yards after the catch.
WEAKNESSES – Read-and-react skills, angles to the ball and his ability to break down quickly are inconsistent, and will be eluded by quicker ballcarriers at the next level. Physical receivers can also block him effectively in the run game. Off-field troubles are a problem: suspended for the first game of his junior season, and served another suspension to begin his senior year due to failed drug tests, both from supposed inadvertent ingestion of marijuana.
T.J. McDonald (S) USC 6-2, 219 lbs.
STRENGTHS – NFL bloodlines with pro size and length who has played deep and in the box. Hits like a missile in the middle of the field, uses his shoulder to bring real power into the back or midsection of receivers with closing speed and tenacity. Solid ball skills, looks high and wide passes into his hands and can get down to get his hands under low throws. Physical presence around the line, sticks his head into short-yardage plays and uses his length to stay off lineman blocks and to wrap up running backs in traffic and receivers in the flat. Attacks the alley aggressively when coming downhill from two-high coverages. Does a good job fighting through blocks and making tackles on screens. Tries to lay the kill shot on wide receivers over the middle, but generally a good form tackler against running backs. Height and size come in handy on jump ball situations. Will be a factor on special teams, both using his length on the kick block team and as a strong tackler on coverage units.
WEAKNESSES – Will be pegged as a pure in-the-box safety. Protected in coverage by being used extensively as a Robber his senior season. Linear, high-cut player who is tall in his back pedals. Displays stiff hips, average change-of-direction ability and burst. His height and average short-area quickness become an issue when trying to break down quickly to make tackles in space, can be eluded in the open field by quicker receivers and running backs. Also lacks flexibility to turn-and-run with better receivers and tight ends. Does not have the range to get to the sideline, even sometimes to the hash, in single-high looks. Stares into the backfield, gets frozen and fooled by play action, loses receivers behind him, and takes time to recover after a false step.
Tyrann Matheiu (CB) LSU 5-9, 186 lbs
STRENGTHS – Fiesty turnover machine who lines up outside, in the slot and at safety when needed. Instinctual player with very good read-and-react ability, always seems to work his way into position to make a play on the ball. Does whatever it takes to make a stop, fights through blocks using hands and quickness, goes low or high and doesn't let up after initial contact. Brings enough force despite his size to get ballcarriers off balance with a glancing blow. Constantly rips at the ball while making a tackle or when others have secured the stop. Fights for jump balls with taller receivers downfield. Regularly used as a blitzer due to his feel, quickness and tenacity. Very good vision and short-area quickness as a punt returner, can make the first man miss and cut back effectively against the grain. Will go outside if the space is there but also slalom through traffic up the field when necessary. Also has balance and strength to get through arm tackles. Will also be a strong tackler on coverage units if required.
WEAKNESSES – Mathieu's issues with substance abuse will be the primary focus of NFL teams whenever he decides to pursue a career in professional football. Possesses below-average size for the position. Usually brings down ballcarriers of any size, NFL veterans might prove a bigger challenge. Quicker than fast, though his effort often masks average straight-line speed for his size. Must prove his ability to stay with larger receivers and tight end in man coverage, as they use their length advantage to separate and frame to shield him from the ball. Will take chances as a punt returner, grabbing the ball on a bounce or inside the 5-yard line.
4th Round Pick #119
Kenjon Barner (RB) Oregon 5-9, 196 lbs.
STRENGTHS – Excellent straight-line speed puts defenders in his dust in the open field. Accelerates after cut to burst through holes on stretch plays.. Flashes some balance and strength to spin off and churn through arm tackles to continue upfield. Eludes penetrating defenders in the holes with a quick sidestep, also has the vision to set up safeties and cut around them for big gains. Weapon out of the backfield, can catch passes with his hands inside his frame and over his shoulder and is tough to track down if hit on the run.
WEAKNESSES – Runs high, and as a result, does not play with tremendous balance. Too often seeks to bounce the ball to the outside and will miss running lanes as a result. Lean build, not much strength in the lower body to power through tackles inside. Average upper-body build brings questions about ball security. Runs upright in the hole before contact comes. Rounds off or takes a couple of steps to cut on east-west runs. Hands are inconsistent, will double-catch or body-catch throws in the flat and won't always.
Phillip Thomas (S) Fresno St. 6-0, 208 lbs.
STRENGTHS – Athletic, physical defender. Strong tackler with good length and the attitude to throw down ballcarrier. Breaks down well when approaching ballcarriers in space, has quick feet and agility to make the stop. Quick enough to stay with tight ends and some receivers in coverage, can undercut to knock away or pick off late throws. Nice ball skills to extend away from his frame to make the moderate-to-difficult interception. Sticks his nose in against the run when making that read, fills a hole, flows through traffic to find the ball, or adds himself into piles with reckless abandon. Comes downhill from two-deep look with speed. Adept blitzer off the edge, makes ballcarrier pay in the backfield if not accounted for.
WEAKNESSES – Missed 2011 season due to a leg injury. Not corner-like in his change of direction ability in man coverage against quicker receivers, though more than adequate for an NFL safety. Can get nosy on play action, getting sucked up or failing to drop deep enough when starting around the line. Loses battles against better receiver blocks in the run game. Needs to prove he has the strength to stop pro ballcarriers in their tracks and be an intimidator in the back half when receivers come over the middle.
5th Round Picks #154 and #162
Nick Kasa (TE)  Colorado 6-6, 269 lbs
Kasa's first year at Colorado did not get off to a smooth start, as he missed the first three games of the season after suffering a knee injury during the team's first fall scrimmage. The injury did not require surgery. After seeing the field in the next four games, Kasa was again sidelined for the five contests due to mononucleosis. The NCAA did not award Kasa a redshirt for the lost 2009 season. Kasa played in all 12 games, including one start, the following year, tallying 18 tackles including two for a loss. As a junior, Kasa failed to earn a start at either position after moving from defensive end to tight end following the eight game of the season. In fact, Kasa only saw action at tight end in one game, the season finale against Utah, and caught one pass for eight yards. Finally, as a senior, Kasa hit his stride at the tight end position, starting every game while recording 25 catches for 391 yards and three touchdowns. What impressed onlookers the most was not Kasa's receiving ability, but instead his willingness to block and overlooked straight-line speed on vertical routes.
Braxston Cave (C)  Notre Dame 6-3, 303 lbs
STRENGTHS – Tough-as-nails center with good overall strength and the intelligence to lead an NFL line. Gives good effort to sustain run blocks through the play, whether it's a reach block or chasing down Mike linebackers when asked. Good enough feet to move to correct blocking angle while engaged. Displays bend and a punch to knock linebackers away from the play in space. Flashes mirror ability when man-up in pass pro, won't be bull-rushed when in balance. Brings a big punch to help either of his guards, knocks defenders sideways. Reliable shotgun snapper, hands get up quickly to handle tackles trying to beat him off the snap.
WEAKNESSES – Not overly athletic and possesses average size and strength. Stiff, lacks quickness, and balance. Stops his feet and bends at the waist in one-on-one blocks, better tackles can pull down and disengage. Quicker second-level targets will avoid his advance or get back into play after initial contact. Struggles to recover when initially beaten.
Conner Vernon (WR) Duke 6-0, 196lbs
STRENGTHS – Outside receiver in most sets, has enough size to play that role at the next level and the quickness to line up inside as well. Difficult to bring down on first contact, especially on a bubble screen. Is not afraid of going up to get a high target, even with a defender closing. Contorts body on underthrown vertical routes, slows stride and high points the pass in front of an awaiting defensive back. Can adequately eat up cushion. Understands how to run routes and get open. As a punt returner, takes the straight-line approach. Tracks vertical throws well, even when bracketed by defenders. Also understands when to take a chance after the catch and when to pick up the given yardage.
WEAKNESSES – Lacks speed or great quickness. Won't chase down a defender to block them, chooses to run them off instead. When blocking contact is made, it is usually with a shoulder and very ineffective. Has difficulties getting a free release from a jam, route is held up in the first three steps. Occasionally miss times jumps when high pointing, leaving too early. Cuts lack burst. Does not change speeds, more of a glider. Creates separation with the route not the explosion in cuts.
Kwame Geathers (NT) Georgia 6-5, 342 lbs
STRENGTHS – Geathers has an absolutely monstrous frame and carries the weight well. Packs a powerful punch and can offensive lineman on their heals immediately. Showcases the ability to lock his arms out, and use quick, active hands to shed. Uses his arm length to extend and wrap up ball carriers. When he fires off the ball low, he can hold the point of attack.
WEAKNESSES – Will get lazy and come off the ball high, allowing defenders to get into his pads. Can get pushed off the ball or get his shoulders turned. Struggles to bend and use his hands on cut blocks. Inconsistent snap awareness and hand usage. Limited starting experience.
6th Round Pick #191
Marcus Davis (WR) Virginia Tech 6-3, 233lbs 
STRENGTHS – Possesses prototypical size and speed combination to be an outside NFL starter. Smooth runner off the line and turns on a second gear downfield that allows him to separate. His size overwhelms smaller cornerbacks, can fight through their advances and go over the top to take away the jump ball. Uses his body to shield corners on slants. Flashes the footwork to stop and separate on out routes after pushing his man upfield. Good concentration to track the ball over his shoulder on deep balls. Can be a bullish runner after the catch, also capable of spinning away from tackles after a stop route then turn on the jets. Has the size and length to dominate corners in the run game.
WEAKNESSES – Still learning the position, must take advantage of increased opportunities and experience as a senior and show scouts he can handle the complexity of NFL offenses. Body-catches passes thrown into his frame. Want-to as a blocker is severely lacking. Does not attack targets or lock onto smaller defenders often enough, will throw a shoulder instead of using his hands. Has lapses in concentration. Must consistently run out his routes, even when he knows he's not the primary target.
Theo Riddick (RB) Notre Dame 5-10, 201 lbs
STRENGTHS – Slasher with some open-field speed. Flashes a strong cut and acceleration to get through a hole. Has value as a receiver out of the backfield with his experience as a slot man. Freezes linebacker with his wiggle in his route, can adjust to poor throws to bring them in. Willing to lower his pads and lean for the extra yard in short-yardage situations, also not afraid to bring his shoulder or step through a would-be tackler. Runs behind his pads, and keeps his legs churning when hit. Finds a defensive lineman to chip via a thrown shoulder in pass protection.
WEAKNESSES – Longer legs and leaner overall build than many teams prefer in a tailback. Upright runner who doesn't tuck the ball away in the open field. Gets himself off-balance with too much dancing in space. Stands up to blitzers in pass protection but won't anchor against stronger linebackers.
7th Round Pick #228
Bruce Taylor (ILB) Virginia Tech 6-1, 237 lbs
STRENGTHS – Strong upper body and some thickness through his torsos and thighs help him inside. Holds up linemen trying to move him on the second level, extending his long arms to maintain distance, and can shed to tackle backs cutting off the block. Flashes the quickness come inside-out to trip up running backs and mobile quarterbacks before they break through the second level. Shows instincts in recognizing plays and taking good angles to the ball carrier. Closes hard on running backs running in the flat or towards the sideline in coverage, making the big hit or wrapping up in the open field. Good blitzer, and he is reliable to break down — and bring down — the quarterback.
WEAKNESSES – Injury history, which seems to have taken its toll on his game speed. Late to break on plays not in front of him. Inconsistent finding the ball in traffic and preventing cutbacks on zone plays, also loses track of running backs in coverage on occasion when following the quarterback instead of adhering to his responsibility. Doesn't display the quickest feet in coverage. Bounces off some tackles when trying to hit rather than wrap or not quite having the speed to get the angle on the ballcarrier. Won't win one-on-one battles against better linemen as a pass rusher until he starts using his quick hands in that role.
Dominick Reyes (SS) 6-4, 220 lbs
 This monster safety possesses great speed and hitting ability. Can be a special teams contributor from day one.